News & Events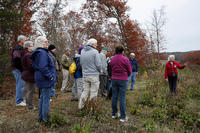 January 19 marked the one-year anniversary of the day that Tidmarsh first opened to the public. We're very proud of what we've accomplished since then, and we couldn't have done any of it without your support!
Registration is now open for Mass Audubon Adventure Camp at Redbrook in Plymouth! We're looking forward to sunshine, summertime, and days filled with adventure in the great outdoors.
Congratulations—and many, many thanks—to all who helped Mass Audubon successfully complete the purchase of 450+/- acres of land in the Manomet section of Plymouth that will soon become our newest wildlife sanctuary—the Tidmarsh Wildlife Sanctuary!
Subscribe to Tidmarsh emails