News & Events
Read the latest MABA news below and subscribe to our email updates to make sure you don't miss a thing.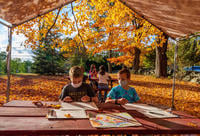 There are exciting developments on the horizon for the Museum of American Bird Art.
Thanks to the generosity and vision of a longtime local family, MABA has grown by nearly three acres! The new addition features a lovely series of rapids on Pequit Brook, which parallels the sanctuary's Main Loop Trail.
This innovative, grant-funded project will enable MABA to create a welcoming community space where students and other visitors can create and discuss collaboration with a focus on science, the environment, and art.